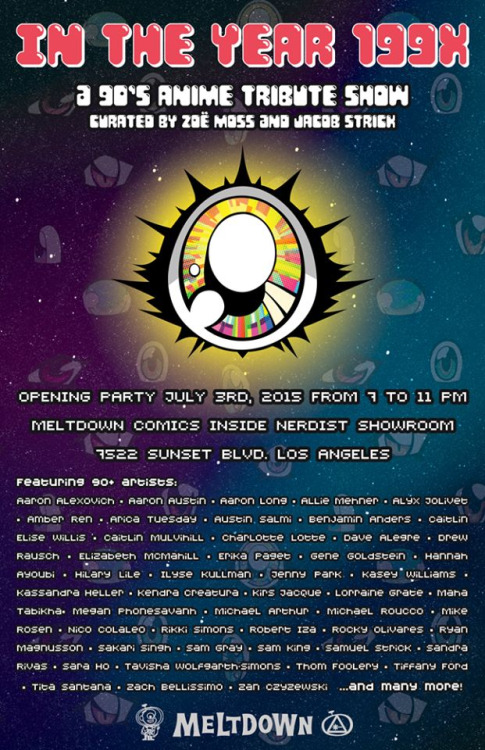 Calling all Anime fans! In the Year 199X is a celebration of Japanese animation in the 1990's, curated by your favorite senpais Zoë Moss & Jacob Strick. Join us as we unveil the works of over 90 artists in celebration of their all-time favorite anime influences.
Kids who grew up in the 90's know it as the decade where anime found its crossover appeal in the West. It might have been on Toonami or on a bootleg VHS, but you were watching shows like Dragon Ball Z, Sailor Moon and Cowboy Bebop — not to mention some classic cinema like Ghost in the Shell, Perfect Blue and Princess Mononoke. Whether you prefer dubs or subs – or Digimon to Pokémon – prepare yourself for the most animetastic tribute to 90's Japanese cartoons!
When: July 3rd, 2015 from 7 to 11 PM
Where: Meltdown Comics inside Nerdist Showroom
7522 Sunset Blvd. Los Angeles, CA 90046
Click here for the Facebook event page
Featuring 90+ artists:
Aaron Alexovich • Aaron Austin • Aaron Long • Allie Mehner • Alyx Jolivet • Amber Ren • Arica Tuesday • Austin Salmi • Benjamin Anders • Caitlin Elise Willis • Caitlin Mulvihill • Charlotte Lotte • Dave Alegre • Drew Rausch • Elizabeth McMahill • Erika Paget • Gene Goldstein • Hannah Ayoubi • Hilary Lile • Ilyse Kullman • Jenny Park • Kasey Williams • Kassandra Heller • Kendra Creatura • Kirs Jacque • Lorraine Grate • Maha Tabikha• Megan Phonesavanh • Michael Arthur • Michael Roucco • Mike Rosen • Nico Colaleo • Rikki Simons • Robert Iza • Rocky Olivares • Ryan Magnusson • Sakari Singh • Sam Gray • Sam King • Samuel Strick • Sandra Rivas • Sara Ho • Tavisha Wolfgarth-Simons • Thom Foolery • Tiffany Ford • Tita Santana • Zach Bellissimo • Zan Czyzewski …and many more!